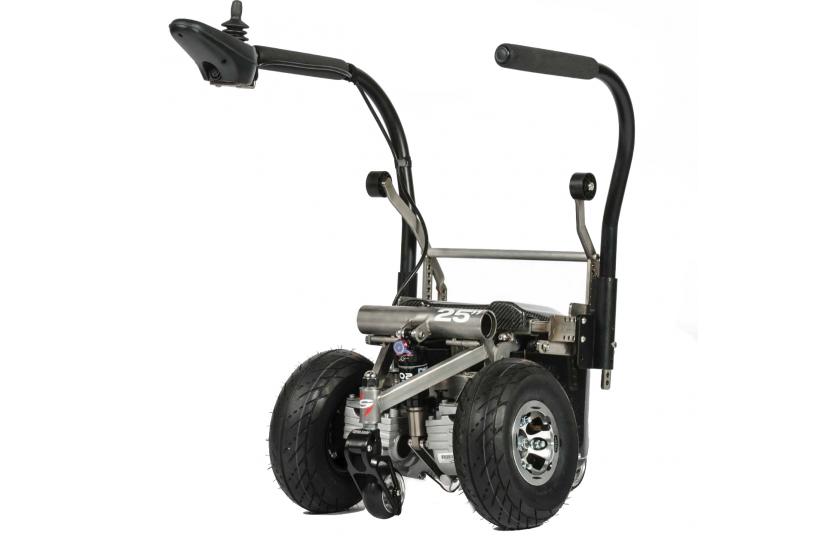 Spinergy ZX-1
The ZX-1 Power Add-On provides power assistance to active users of manual wheelchairs. It is commonly known that maintaining a strong upper body for a person in a wheelchair is vital to that individual's ability to perform transfers and other movements for improved quality of life. The ZX-1 aids in preserving upper body strength, significantly reducing the effects of prolonged pushing of a manual wheelchair, and is ideal for navigating over difficult surfaces like carpeting, grass, and hills. It is well suited for manual wheelchair users with a variety of disabilities including but not limited to: Spinal Cord Injuries, Amputees, stroke victims, MS, MD, etc. The ZX-1 adjusts to the user's manual chair eliminating the need for an ATP, PT or OT to change the seating configuration of the wheelchair.
Features and Benefits
The ZX-1 is a revolutionary power add-on device that converts virtually any manual wheelchair into a joystick-powered manual chair. It is the only device on the market that requires no tools or assistance allowing the user to attach and detach autonomously. Seated in the manual wheelchair, the user simply backs over the ZX-1 and attaches to it by pressing a button on the joystick controller. Once attached, the ZX-1 is under full power thanks to two powerful 24 volt gear-driven electric motors that are commonly found on most large power chairs. It has the ability to operate on a variety of surfaces including gravel, hard pack, rocky terrain, thick grass, hills, etc. This quality sets it apart from other power assist devices that are on the market.
The ZX-1 is as robust as most power chairs, but it only weighs 82 lbs. (37 kg.) and tucks underneath the wheelchair preserving the user's original overall width. The ZX-1 also only adds about 3" (7.6 cm.) in length. Due to its compact size and weight, the ZX-1 is ideal for airline travel and for use within homes and spaces with narrow doorways. Since the ZX-1 lifts up the wheelchair rear wheels slightly off the ground, the user can remove their wheels off of the chair while inside their homes in order to reduce the overall width of the wheelchair by 6" (15.2 cm.) making it much easier to navigate through doorways or around furniture.
The ZX-1 has an adjustable range for seat widths from 14" to 20" (35.5 – 50.8 cm.). It can also adjust to different wheelchair wheel diameters of 24", 25", and 26" (540, 559, 590 mm). The adjustability of the device simplifies orders for clinicians and dealers. Adjustability also allows for growth in the users' wheelchair seat width, an important selling point to insurance providers because there is no need to purchase an entirely new device every time the wheelchair specs change.
The ZX-1 includes an anti-tip safety system which provides stability and easy transitions over thresholds and curb cuts. The ZX-1 comes standard with two 12 Volt Lead Gel Mat Batteries that provide for a minimum range of 5 miles based upon a max occupant weight of 250 lbs. (113.4 kg.). Spinergy offers an optional Lithium Ion Battery which extends the range to over 10 miles and reduces the overall weight of the device down to 75 lbs. (34 kg.).
The Lithium Battery carries a 3-year warranty versus a 6-month warranty for the Lead Gel Mat Batteries. The stainless steel chassis comes with a lifetime warranty, and a 1-year warranty for all electrical components. The only maintenance items required are tires and maintaining adequate tire pressure.
Both the joystick and the VRII controller are supplied by PG Drives which is a commonly found control system in the power wheelchair industry making maintenance/programming accessible to technicians and clinicians who are generally familiar with these components.
Specifications
| | |
| --- | --- |
| Length: | 24in |
| Width: | 17.5in |
| Tires: | Solid/Pneumatic |
| Max Tire Pressure: | Indicated on Tire Sidewall |
| Tire Diameter: | 10in |
| Maximum User Weight: | 250lbs |
| Ground Clerance (Frame/Transaxle): | 1.75/2in |
| Battery Range w/250lb. User: | 5miles with Lead/ 9miles w/ Lithum |
| Maximum Slope: | 6 Degrees |
| Highest Curb Clerance: | 2in (50mm) |
| Batteries: | Lead: 12V 15Ah AGM Lithum |
| Battery Weight(Pair): | 17lbs. w/Lead, 10lbs. w/ Lithum |
| Weight (Without Batteries): | 65lbs |
| Weight (With Batteries): | 82lbs. w/ Lead, 75lbs. w/ Lithum |
| Freewheel Mode: | Yes |
| Electronic Speed Control: | Yes |
| Brake Type: | Electromechanical Park Brake |
| Charger Type: | Off-board |
| Drivetrain: | 24V DC Brushed Gear Motors(2) |