These are a sampling of the wheels we carry for same day assembly and shipping in most instances.
Wheel Assemblies >>

Spinergy Wheels
Spinergy, the most trusted wheel on the market, is available everyday with 49 Bespoke Inc. boasting a complete inventory of 22", 24", 25", 26", and 700C ready for shipping to the dealer network. To compliment the SPOX, EXTREME, BLADE, all daily use and active living wheels, we have complete inventory or push rims, tires, tubes, snap on tires, and axles to accommodate most needs. Poly (p-phenylene-2,6-benzobisoxazole) (PBO) spokes are 2x stronger vs carbon/kevlar and 10x stronger vs steel/aluminum. PBO spokes eliminate the brittleness inherent with resin‐impregnated carbon/kevlar spokes, and aren't subject to bending, breaking buckling like steel or aluminum.
On occassion we have SPECIAL SALES available of wheels that have been at trade shows or other events that we may reduce the cost on; call and check if you are in the market for exceptional wheels at the best pricing.
Lite Extreme
Sport Lite Extreme
X Laced Lite Extreme
---
Loopwheels
Red
Green
Orange
---
CEW
Custom Engineered Wheels have produced some excellent wheels that you will see on a lot of OEM products. From their Enduro Wheels to Carbon Fibre, their Patented triple-stage manufacturing process allows engineers to optimize the shock-absorbing qualities of composites; controlling both vertical stiffness (ride comfort) and lateral stiffness (handling and cornering), pushing the performance envelope. They are 300% stronger TM, the new 2nd Generation Composite on the 3-Spoke adds strength-enhancing internal ribbing down the spokes and secure hub mounting (now factory-set into position with advanced epoxy) thrusts the X-CORE 3-Spoke reliability to new heights. They have a 3-Year limited Warranty. See website (www.x-corewheels.com) or contact us for full details.
25" X Core
25" X Core
24" X CoreMag
---
Spintek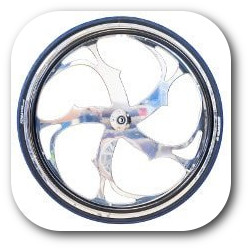 Phoenix
---
Topolino
Founded in 1999, Topolino Technology was created with a mission to design and develop innovative products in specialized technology arenas, like the wheelchair industry.
Chief Engineer and Founder Raphael Schlanger brings over 25 years of engineering experience in the medical and bicycling industries, and has over 20 patents in the field. With a focus on advanced composite materials in the development of wheels, his designs have won prestigious awards and have been raced by athletes at the highest levels of competition.
Topolino Technology prides itself on designing and delivering quality products based on genuine innovation in materials and engineering. Beyond the technology, each Topolino wheel is hand built by skilled craftsmen who understand wheels and are devoted to the highest quality build. The wheels are individually crafted in Topolino's workshop in the small town of Bethel, Connecticut.
---
Sun Components
Sun Components has been an industry leader within the wheelchair market for over 50 years. Style, durability and price are key elements in the design and supply of wheels, rims and hand-rings to major wheelchair manufacturers and consumers worldwide.
One of their top wheels and what RGK provide as standard, is the Fusion 16 pictured here. They use this wheel on their daily use products and the Equalizer as a standard wheel on their active living units.
Fusion 16
Equalizer
Bariatric 507
---
Round Betty
Round Betty Wheels Slogan Reads "Ultra light weight, with the strength for everyday use"
The web site reads, "Through the use of proprietary aluminum tubular spokes the Dino has unmatched pushing characteristics. The responsiveness of the Dino will improve your pushing dramatically, allowing you to roll faster and longer than any other wheel on the market.
These wheels respond in the fashion that a high performance, everyday wheel should: seamlessly. You will push more quickly without expending more energy."
Dino Blue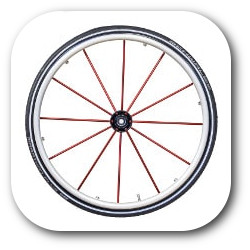 Dino Red
---
Others
Twin Star